Rechargable Tire & Wheel Lift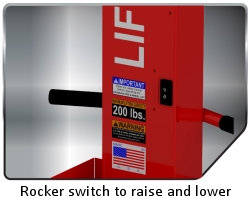 FEATURES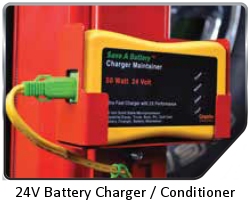 Heavy lifting accounts for 20% of all workplace injuries. The tire and wheel assembly for some passenger cars,
suvs and trucks can weigh as much as 160 pounds, making it very difficult for one person to comfortably and
safely lift and set in place. This rechargeable mobile unit is powered by two 12V batteries wired in series
resulting in a powerful 24V output. The LM-200-R2 is a powerful lift that will be a workhorse for many years.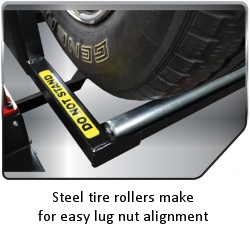 Designed with a linear actuator and clutch. An audible signal marks the minimum and maximum travel. A 24-volt battery charger and conditioner included. Designed with an off-set column for improved access to lug nuts and wheel service equipment. Two Duracell 12-volt sealed batteries included. Ships unassembled.