View all Sem Products Compounds, Cleaners & Waxes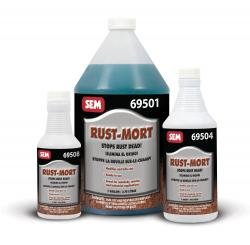 ---
Warranty:

Call for Details

Description:

RUST-MORT converts rust to a black or grayish, hard, insoluble, protective coating.
Useful in autobody, marine, industrial, farm and home applications.
Modifies and kills rust
Easy to use
Ready to apply
Minimal surface preparation
1 Quart

NOTE: CONTAINS PHOSPHORIC ACID. Please refer to the MSDS for proper personal protection systems.